Personalised Gift Golden Foil Ticket, Foiled Voucher, Personalised Ticket, Christmas Voucher, Surprise Holiday, Birthday Event
Are you surprising someone with a trip for a birthday or special occasion but don't have a physical ticket to give them?.
Lots of events now only send you a confirmation email, with the tickets only arriving shortly before the event, but printing off an email isn't always the nicest way to surprise someone. Especially on a special occasion.
Why not Choose this perfect foiled gift voucher to surprise a loved one or friend to let them know what you have planned for them…whether it be a concert to see their favourite artist, a  weekend away,  bottomless brunch date , or a trip to the theatre ... wherever you are taking them just let me know and i will print it for you and present it on a gorgeous foiled ticket.
I have lots of foil choices available as shown on the examples, choose from Holographic silver, Rose gold, Blue, orange, green, red, pink, rainbow, silver or gold foil.
With so many beautiful foil colours the hardest decision you will have is which to choose!
When it comes to the  personalisation please include the following:
❤ Recipient Name - (e.g. Emma)
❤ The surprise - (e.g. Taylor swift in concert )
❤ Occasion/Message - (e.g.Happy Birthday)
❤ Who it is from - (Love, Mum and Dad x)
❤ Choice of foil colour.
What you will receive.....
❤ 1 foiled ticket printed on 300gsm Premium  White  Card in the foil colour of your choice
❤ Size: 210mm x 100mm
❤ FSC certified Kraft brown envelope
❤ Your ticket will be sent in a hardback envelope to prevent it getting ruined in the post.
❤ Reverse is blank 
Custom option:
The corners will be inverted but if you prefer them rounded or if you have something different in mind for your ticket design, please message me for a custom quote.
__________________________________________
Delivery:
• Your order will normally be processed and dispatched within 1 – 2 working days via Royal Mail First Class. Please allow for seasonal variations and check the dispatch times before ordering as this may vary.
Unfortunately I cannot guarantee delivery times so if your order is urgent please contact me BEFORE ordering to ensure i can meet your timeframe.
---------------------------------------------
Personalised golden Ticket, Foil gift voucher, Harry Potter Ticket, Peter Kay Ticket, Wicket Theatre trip Ticket, Gold Foil Ticket, Afternoon tea voucher, Weekend spa break voucher, Romantic break ticket,  Christmas market trip, Harry styles ticket, Taylor Swift Tickets, Surprise Birthday Trip, Gift voucher for Mum, Gift voucher for Wife, Football tickets for Dad, Legoland trip tickets, Ed Sheeran Ticket, Foil Finish, Gift voucher for Husband, Arsenal Tickets, Man Utd Ticket, Gift Voucher, Christmas Day Voucher, Gift Ticket, Birthday Voucher, Surprise Gift Voucher, Bottomless Brunch voucher.
Recommend this product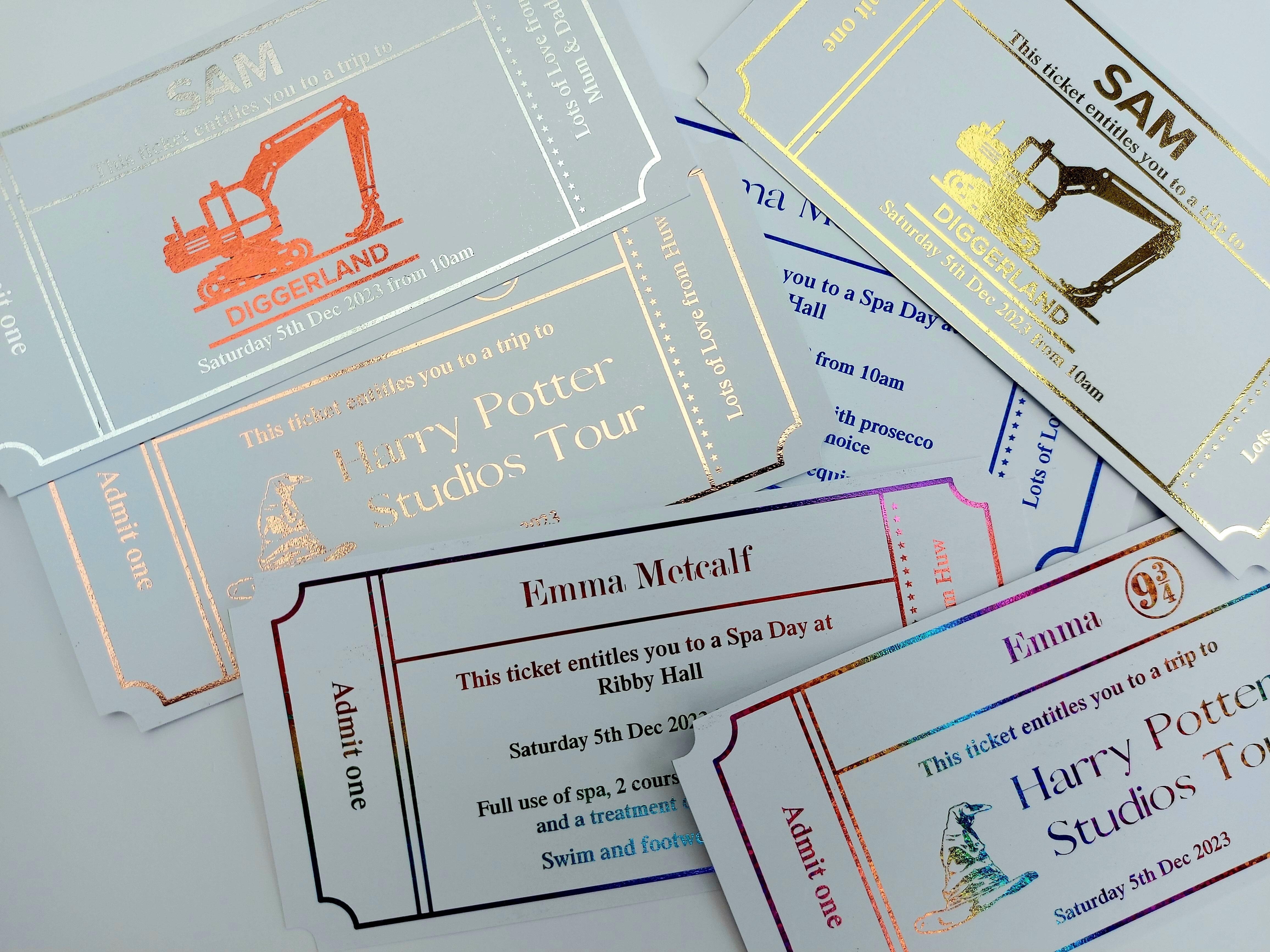 Personalised Gift Golden Foil Ticket, Foiled Voucher, Personalised Ticket, Christmas Voucher, Surprise Holiday, Birthday Event