2024 Wall Calendar - A4 Size, Wire Bound, Jan-Dec, Wall planner- calendar organiser with Note Section - Family Planner
Elevate your year ahead with our stunning 2024 Wall Calendar, thoughtfully designed to add a touch of elegance and functionality to your space. This calendar, sized perfectly at A4, is more than just a tool to keep track of dates; it's a work of art.
Key Features:
Original Artistry: Immerse yourself in the world of Emma Metcalf Designs with 12 exquisite, original illustrations that grace each month of this calendar. Emma's unique style brings life to your walls, infusing your days with creativity and inspiration.
Wire-Bound for Convenience: The wire-bound design ensures easy flipping and page-turning, making it a breeze to navigate through your year. No more fussing with stubborn pages – this calendar is designed for your convenience.
Year-Long Organization: From January to December, our calendar provides a comprehensive overview of the entire year, helping you plan and stay ahead with ease. Keep track of birthdays, appointments, and important events effortlessly.
Note Section: We understand that life is filled with moments that require additional notes and reminders. That's why we've included a dedicated note section for each month, allowing you to jot down important details and special memories.
Additional Information:
Size: A4 (210mm x 297mm) - Perfect for any wall in your home or office.
High-Quality Paper: Our calendar is printed on premium quality paper that not only looks great but also ensures durability throughout the year.
Beautiful Gift: This calendar makes a thoughtful and artistic gift for friends, family, or colleagues who appreciate the beauty of original artwork.
Make 2024 a year to remember with our 2024 Wall Calendar featuring Emma Metcalf Designs' captivating illustrations. Transform your space into a hub of creativity and organization. Order yours today and start counting down to a year filled with inspiration and joy!
Buy with confidence with over 1500 5* reviews!
Fancy being more eco friendly? then why not choose the plantable seed variation of this calendar, Find it here......
https://emmametcalfdesigns.etsy.com/uk/listing/1556687117/2024-plantable-seed-calendar-eco?utm_source=Copy&utm_medium=ListingManager&utm_campaign=Share&utm_term=so.lmsm&share_time=1693821513966
Free Uk mainland  2nd class postage.
Recommend this product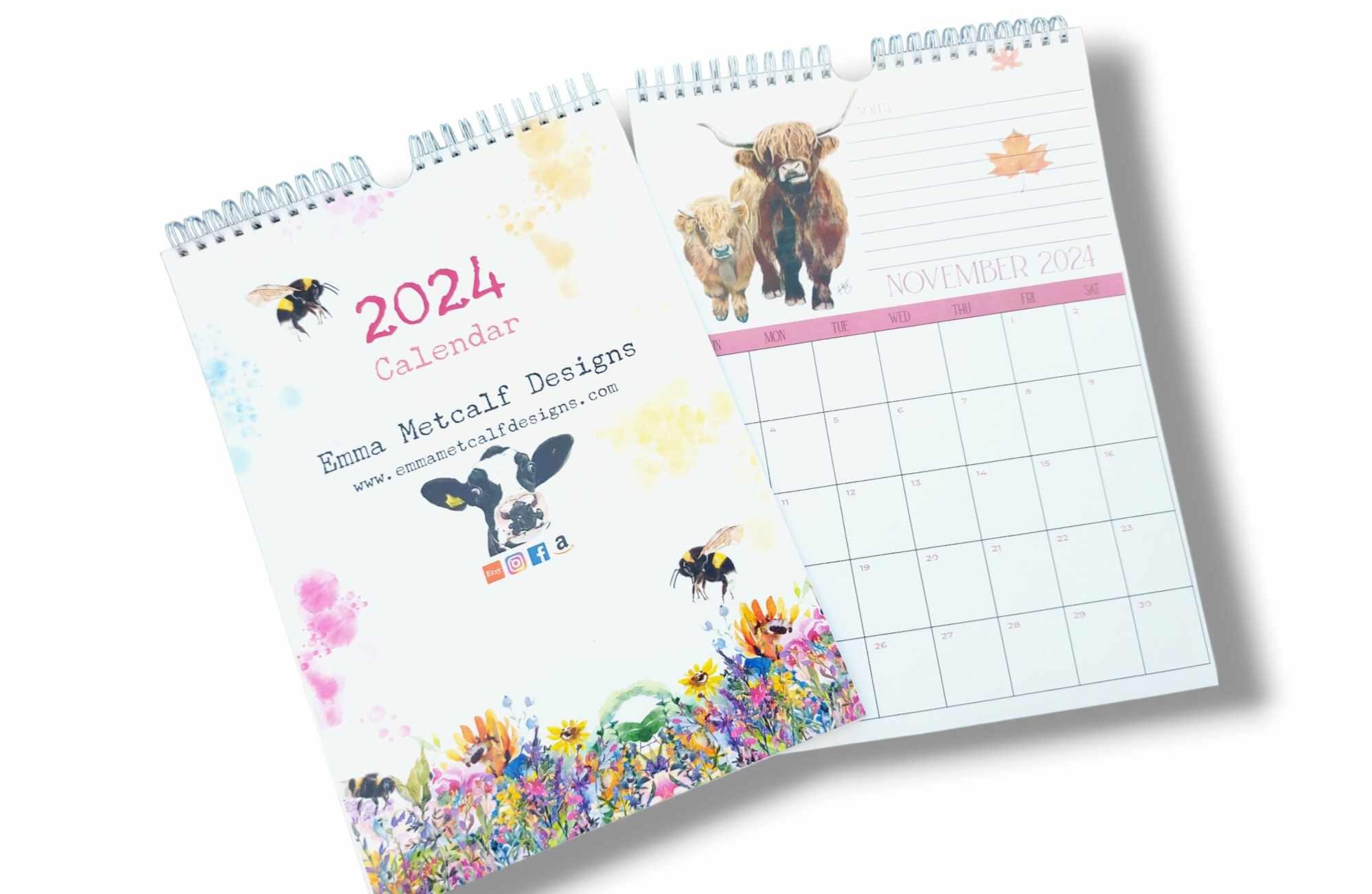 2024 Wall Calendar - A4 Size, Wire Bound, Jan-Dec, Wall planner- calendar organiser with Note Section - Family Planner